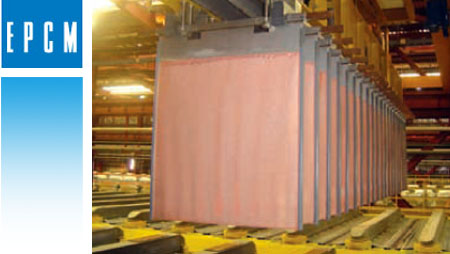 EPCM Services Ltd.
has more than 30 years of service in the provision of Stainless Steel Cathodes and Cathode Handling Equipment for modernization and new projects for copper electrorefining and electrowinning plants. The SP cathode and the robotic stripping system with new cathode wash technology makes EPCM your preferred technology! These installations are utilizing more than 800,000 cathodes and producing over five million tonnes of copper annually. Recent product development included the integration of robotics for cathode and product handling. EPCM has an active development program along with engineering resources at Oneira Corporation, an EPCM company to establish itself as a world class supplier and service provider to the industry.
ENGINEERING - EPCM has provided engineering services and technology to the base metals industry for over three decades.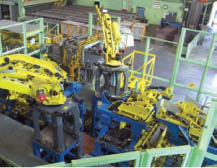 EPCM applies its expertise to developing creative and practical solutions to assist clients with their operation, maintenance, reliability and productivity needs. Our experience includes new plant design, expansion/modernization, process optimization, safety and environmental projects. EPCM has developed its business based on peronalized service, design creativity, project management and cost control. Complete turnkey services are offered for project execution and single responsibility including Basic Engineering Studies, Detailed Designs, Procurement, Project Management, Plant Upgrades and Optimization.
Cathode Manufacturing
Tecnologias Cobra Limitada, an EPCM company, operates a new cathode manufacturing facility conveniently located in Antofagasta, Chile, the heart of the world copper belt. Cobra was inaugurated in 1998 to provide manufacturing and service to the copper industry. Over 600,000 permanent cathodes have been manufactured in Cobra's plant with the largest single order being 132,000 for the largest refinery in the world. Cathodes manufactured by Cobra are in service globally.
EPCM SP Cathode
In 2007, EPCM developed the Superior Performance (SP) Cathode to provide improved corrosion resistance, while maintaining the highest electrical performance the industry has come to expect from EPCM. Over 70,000 SP Cathodes are in production in copper producers in South America, Asia, Africa and Europe.
Cobra Technology, an EPCM company, was established in 1998 to support Permanent Cathode technology users. Today it operates a modern cathode manufacturing and repair facility in Antofagasta, Chile; the heart of the South American copper belt. To date, Cobra has manufactured over 500,000 permanent cathodes that are in service in base metal tankhouses globally.
Superior Performance
• Consistent low voltage drop during the cathode lifecycle
• Industry leader in structural integrity
• Corrosion resistant
• Easy to repair
• Residual value at the end of productive use
Superior Design Features
• Stainless steel blank welded to a solid copper hanger bar for long term low voltage drop and electrical efficiency
• Hanger bar wrapped with stainless steel sheath for structural integrity and weld zone corrosion protection
• Dual barrier end seal with inert epoxy and copper sleeve to prevent electrolyte ingression
SP Robotic CSM
EPCM is a leading supplier of Stainless Steel Cathodes and Cathode Stripping Systems for the base metal electro-refining and electro¬winning industry. Our systems have a range of automation levels that vary from 40 to 500 cathodes per hour. Since 1992, EPCM has been involved in projects that are utilizing more than 750,000 cathodes and which produce over four million tonnes of copper annually. Our development and continuous improvement programs have created innovations which are a major benefit to copper producers around the world. Some of the innovation highlights are:
• Robotic material handling
• SP Cathode washing
• Under running transfer car
• Full length edgestrip press
Superior Performance
EPCM cathode washing and stripping systems utilize robotic technology for material handling. The benefits of robotics over conventional carousel and linear conveyor systems are:
Reliability
Leveraging the rigorous reliability demands of the automotive industry, EPCM brought this standard to the tankhouse by pioneering the Robotic CSM. The robots used in the EPCM stripping systems have a history of over 64,000 operating hours between major failures (MTBF).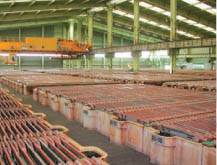 Flexibility
The use of robots increases operating and layout flexibility. Since the stripping stations are modular, multiple stations can be used to increase operating capacity. As well, optional stations such as sampling, corrugating and clinching can easily be added to an existing system without a major cost or down time.
Noise Reduction
The use of robots for stacking eliminates the need for traditional sheet stackers which drop sheets a greater distance generating higher noise levels.
Lower Capital Cost
In most applications, a robotic stripping system can be installed on a flat floor slab without the requirement for extensive "pits" and machine foundations.
Improved Maintainability
The use of robots results in a better equipment installation for maintenance and cleaning access.
Energy Efficient
The robots utilize efficient servo motor drives which have greater electrical efficiency than hydraulic systems commonly used on custom material handling equipment.
Total Cathode Surface Wash
The cathodes travel through the SP cathode wash system perpendicular to the direction of the wash water spray so that the entire copper surface is exposed for cleaning. Direct water contact with the copper surface is a major improvement over traditional cathode wash systems where the water approaches the copper surface from the top and sides.
Five Wash Stages
• A prewash stage starts the dissolution of sulphates and other contaminants.
• Two wash stages with a line of nozzles spraying re-circulated water directed at the copper face.
• A rinse stage where a line of nozzles sprays fresh hot water directly onto the copper to remove residual wash water.
• An integrated drying tunnel utilizes the make-up ventilation air to evaporate the surface water as the cathodes exit the wash booth. This new drying concept reduces energy consumption while producing a drier cathode product for further processing.
Dropped Cathodes Eliminated
The cathodes are bottom supported as they are conveyed through the wash system, eliminating copper pre-stripping and inherent production stoppages in the wash booth.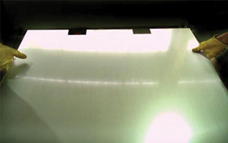 Reduced Energy Consumption
Since cathodes enter and exit the wash booth parallel to the direction of travel, the openings in the booth are minimal in size. With less ventilation air required to contain the water over-spray, energy consumption is reduced through lower fan power requirements, less water evaporates and the building make-up air heating is reduced.
Internal Heat Recovery
Baffles are strategically placed in the wash tank to segregate the wash water for heat recovery.
Reduced Water Consumption
Fresh water consumption in the rinse stage is substantially reduced more effective direct surface rinse spray and by turning off the water when the conveyor is stopped.
Walk-In Maintenance Access
Man doors and an internal walkway allow full access into the wash booth by operators and maintenance personnel.
For over 30 Years...
Our technical team has been committed to supplying superior products and services for a wide range of production support needs in the metals and minerals industry.
Partnering with EPCM Supply Inc. for your replacement parts has benefits:
• Timely delivery
• Pro-active expediting and order acknowledgement
• Environmentally friendly packaging
• Tagged & labelled parts for easy identification
• Critical parts inventory
• Engineered solutions
Production equipment maintenance service, a growing alternative:
Taking responsibility for the maintenance of your production equipment is a demanding challenge. Our team of professionals and technicians try hard to keep the equipment under their responsibility operating well. Contract maintenance has been adopted by some major producers.
Partner Company URL:
www.epcm.com