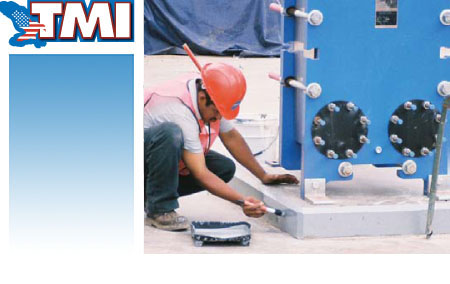 Tankhouse Maintenance Inc.
Tankhouse Maintenance Inc. is a specialized on coatings, PP tank manufacturing, Polymer Concrete repairing, Plastics/cell furniture company which supplies coatings as well as coating related products to the industrial market (with a focus on mining). While TMI has been in existence since 2000, the owner Skip Pauze has been involved in the coating industry for over 30 years. This experience has taught us that customers prefer one point of contact for manufacturing and coating projects in order to resolve concerns with the coating or the installation. We test all of our products and coatings prior to installation into new applications and if there are issues with the project.
Specifically, we have the following product line and we hope we are given an opportunity to bid on projects involving these materials. We are also happy to drop by your offices to discuss our products and services further and we have brochures available if you would like more information.
APPLICATIONS
• Structural strength for the buildings and structures especially for earthquake zones
• PP tank manufacturing
• Polymer Concrete repairing
•Plastics / Cell furniture manufacturing
• Steel or concrete column support
• Flooring and column coating for tank house
• Production of polymer concrete cells for tank house
• Pipe coatings, steel, concrete, plastic fast and easy
• Tank and structural coating
• Floor coatings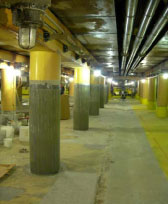 Floor Coatings
Most of our flooring business is based on tough chemical resistant areas such as tankhouse and tankfarm floors which are contacted by sulfuric acid solutions as well as foot and forklift traffic. The majority of these floors are coated with our vinylester formulation resins which has been proven in many mining applications worldwide. We continue to explore new options for floor and tank coatings but we only offer to supply coatings which we have tested on our own. It is important to us that if we provide a coating for a customers application, that we are able to stand behind the coating and our application. Most of our coatings come with our Service Maintenance Agreement which include regularly inspecting and repairing areas of the floor or tank in need of attention.
Tank and Structural Coatings
Over the years, we have used many different manufacturers product which include Carboline, Belzona, Tnemec, Euclid, Sauereisen, International Coatings, Seal Coatings Protective Flooring and Lining, PermaDri along with more standard epoxies, elastomeric coating, poly ureas and polyurethanes. We have worked on many different substrates such as carbon steel, stainless steel, concrete, wood and fiberglass.: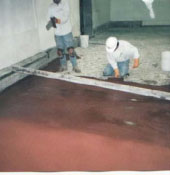 Polymer Concrete
TMI uses our own polymer concrete resin formulation to fabricate new products in our shop (such as cells, piping, manholes etc.) as well as many on site items such as sumps, trenches and equipment bases. Work in this area also includes polymer concrete repair work on electrolytic cells, sumps, containment areas, equipment bases etc.
PCU
Another recent addition is the development of PCU's (Primary Containment Unit) to help retrofit existing concrete cells with liners with a polymer concrete floor and frp lined walls. This development uses both our polymer concrete background as well as the frp strengthening system.
We have installed these cells at plants with an interest in polymer concrete cells, but they cannot justify the production loss during a complete plant shutdown. These cells can be retrofitted during regular maintenance cycles in the plant.
HJ3 Structural Strengthening
A more recent addition to our product line is the application of fiber or carbon fiber materials from HJ3 Composite Technologies to existing structures to help strengthen these structures. This includes columns, beams, walls, floors etc. which may have deteriorated over time or through use or which need to be strengthened beyond their original design. We have recently completed projects which include retrofitting a concrete building in Alaska to bring it back to code after earthquake damage and repairing columns and beams in a tankhouse which had deteriorated due to chemical corrosion from the electrolyte. HJ3 provides the strongest material and services for designing, engineering and supplying composite fibers to structural strengthening repair projects.
Reagent Supply
For the past 2 years we have been working with ATMA to help supply SX reagents to the mining industry. ATMA is a company formed in India which built a plant to help supply a portion of the mining world's reagent need. They have positioned themselves to be a low cost supplier of reagents for this industry.
Partner Company URL:
www.tankmaintenanceinc.com